Edith Rodriguez
Clinical Assistant/ Surgery Coordinator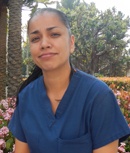 I have had the pleasure of being a part of Santa Monica Orthopedic and Sports Medicine Group since 2006. My roles include assisting Dr. Gerhardt in clinic, and scheduling surgeries. It is my goal to ensure all of our patients feel welcome, comfortable and cared for. I strive for excellent customer service, therefore it is my personal objective to go above and beyond my "responsibilities" to set my team apart and provide top notch medical care to our patients.
I welcome you to an exceptional and experienced team. I am happy to be of service to you, your family and loved ones. Thank you for taking the time to learn about our team, and for considering Dr. Gerhardt as your first choice towards your recovery and rehabilitation.
To better serve you I am available on: Tuesday afternoons, Wednesday afternoons, and all day Friday. I can be reached directly at: .