Media
Ortho Summit 2019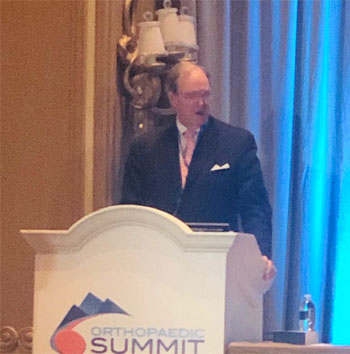 I enjoyed giving hip arthroscopy lectures at Ortho Summit 2019 meeting in Las Vegas. Enjoyed friendly debate with Dr Marc Safran on labral reconstruction! Best part was getting to catch up with my mentor Dr. Thomas Byrd - without a doubt the GOAT of hip arthroscopy!
Proximal Hamstring Repair: Open vs. Endoscopic
Michael Gerhardt, MD, (Santa Monica, CA) presents his surgical protocol and rationale for treating proximal hamstring tears off of the ischial tuberosity. He discusses the relevant hip anatomy, mechanism of injury, and the endoscopic and open surgical technique for treating partial and full thickness proximal hamstring ruptures.
This past October, Dr. Gerhardt was with the USMNT for the CONCACAF ‪Final at the Rose Bowl. After an exhilarating US‬ vs. ‪Mexico match, Dr. Gerhardt spoke with Santa Monica Orthopaedic and Sports Medicine Group about his experience as team physician for the USMNT. A great read for sports fans and those who would like to learn more about Dr. Gerhardt's involvement with the team!
Click here for more information
Riding High
Michael B. Gerhardt, MD, an orthopedic surgeon and sports medicine expert with Santa Monica Orthopedic and Sports Medicine Group, is an expert in a less-invasive procedure called hip arthroscopy that can alleviate discomfort in people with abnormalities in and around the hip joint. Dr. Gerhardt learned the technique more than a decade ago.
Click here for more information
You will need the Adobe Reader to view and print these documents.